Autogramme und fanpost von Marlene Aragon (Seite 1 / 1):


Marlene Aragon Sucess - 26. November 2011
On 10/11/11 I sent a photo, LOR, and a SASE to the Aliso Viejo address and today 11/25/11 I received my photo back signed with a little note am very happy about the success. Auto: - Envelope: - Thanks Ms. Aragon and Fanmail.biz!


---

Kommentare hinzufügen | 2 kommentare
---
Marlene Aragon RTS - 08. Oktober 2011
I sent to the new address in the database 9/7/11 and today 10/8/11 I got my envelope returned to me. Yellow sticker says Return to Sender, Not deliverable as addressed, unable to forward. Also someone wrote Rent Due. Marlene Aragon Piggelty Productions P.O. Box 5245 North Hollywood, CA 91616-5245 Envelope - Anyone know if theres another address? Or if I should try again at a later date?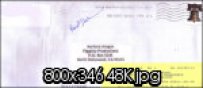 ---

Kommentare hinzufügen | 3 kommentare | Zurück an den Absender

---
Marlene Aragon RTS - 06. September 2011
On 8/26/11 I sent a LOR, a photo and a SASE to the address in the database and today 9/6/11, I received my envelope back as a RTS. Envelope - Anyone know an address that may work? Thanks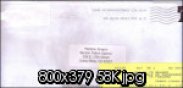 ---

Kommentare hinzufügen | 2 kommentare | Zurück an den Absender

---