Autogramme und fanpost von Ted DiBiase (Seite 1 / 3):


Ted Dibiase fail :( - 13. November 2018
I sent a card to Ted 3 months ago and got it back today unsigned in my sase. Does anyone have thoughts on why he didn't sign? Does he charge or?? I sent it to the address in the database and it had successful feedback so not sure...
---

Kommentare hinzufügen | 8 kommentare
---
"The Million Dollar Man" Ted DiBiase WWF Success - 21. September 2018
Sent LOR, SASE and TC to: Mr. Ted DiBiase c/o Heart of David Ministry P.O. Box 1291 Clinton, MS 39060 Received my card back signed. Sent: 9/10/18 Received: 9/21/18 Uploaded with ###://surfmypictures.com:surfmypictures Uploaded with ###://surfmypictures.com:surfmypictures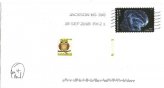 ---

Kommentare hinzufügen | 3 kommentare
---
Wrestler Ted DiBiase success - 11. September 2018
American former professional wrestler, manager, ordained minister and color commentator.He is best recalled by mainstream audiences for his time in the World Wrestling Federation (WWF), where he wrestled as "The Million Dollar Man" Ted DiBiase. He is regarded by many as the greatest villain in pro wrestling history. IGN called DiBiase "one of the most gifted technical wrestlers to ever grace the squared-circle". mailed photo 1-11-18 received signed 2-10-18 used: c/o Heart Of David Ministry P.O. Box 1291 Clinton MS. 39060 http://surfmypictures.com/image/1530cf8 ... 6yhoc.html

---

Kommentare hinzufügen | 2 kommentare
---
Ted DiBiase - 18. April 2018
Sent a donation request letter and a SASE in Jan. 2018 and Received in April 2018 signed photo from Ted DiBiase "The Million Dollar Man" No scan of envelope as there was no return address. Address Used: Ted DiBiase Heart of David Ministry P.O. Box 1291 Clinton, MS 39060-1291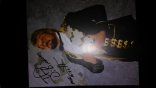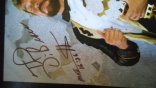 ---

Kommentare hinzufügen | 6 kommentare
---
Ted DiBiase Success - 10. Oktober 2017
Sent: LOR, photo and SASE on 9/18/17 Received: Photo signed on 10/10/17 Address used: Ted DiBiase c/o Heart Of David Ministries PO Box 1291 Clinton, MS 39060 https://scontent-dft4-3.xx.fbcdn.net/v/t1.0-9/22310596_1699006130112330_4764959438505866986_n.jpg?oh=fdb7aaf39a6b4be6945f7c5dbde4ffbb&oe=5A7538ED
---

Kommentare hinzufügen | 3 kommentare
---